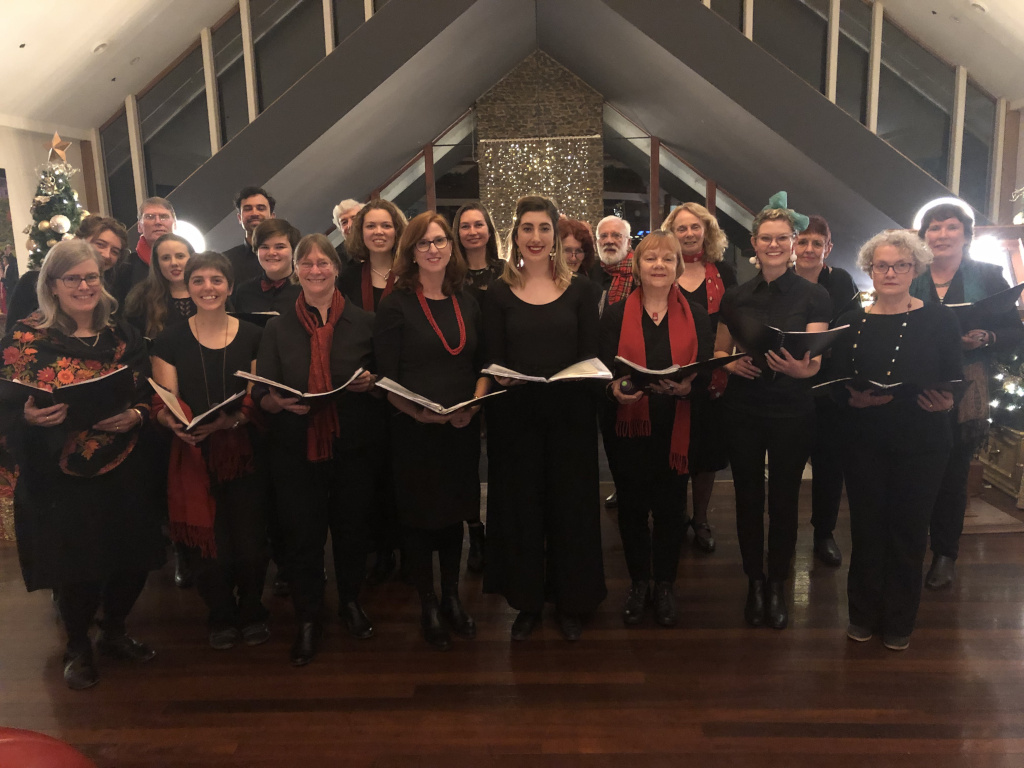 Report from Yulefest
On the crisp winter morning of July 6, 20 Jubilate choristers journeyed to Katoomba for the weekend. Day 1 kicked off with a workshop taken by Jubilate Director Joanna Brooke, where choristers used body percussion, improvisation and folk songs to weave together choral soundscapes.
The group then shifted into performance mode, preparing a set of Christmas carols in four part harmony for the evening's Yulefest appearances. First stop was Leura's Fairmont Resort and Spa, where the grand lobby had been decorated with Christmas lights, gingerbread houses, Santa's throne and an adorned tree, all set against an exquisite window scene of the mountains themselves. Jubilate's heartfelt performance of O Come All Ye Faithful with its soaring descant line and lively rendition of Deck the Halls was the perfect centrepiece for this cosy, festive scene. 
The second performance for the evening was at the Blue Mountains Youth Hostel, where 65 diners were serenaded over a three-course dinner with mulled wine. During the performances, the whole audience joined in for old favourites like Silent Night, Hark the Herald and Away in a Manger. After a roaring success, it was time to relax by a roaring fire, with a bowl of hearty soup, plates of baked treats, mugs of mulled wine and a very competitive round of trivia! 
Sunday morning and time for another workshop, with special guest conductor Rose Saunders, who taught a range of songs from around the world, a canon from Israel, Hashivenu, a French canon, Le Coq est Mort, and a traditional Croation song, Zaspo Janko. One final performance at Katoomba Uniting Church Hall for Earth Recovery Australia and then back to the Youth Hostel for a pizza party and final farewells. 
A weekend of music, delicious food, new friendships, performances, laughter and… mulled wine!